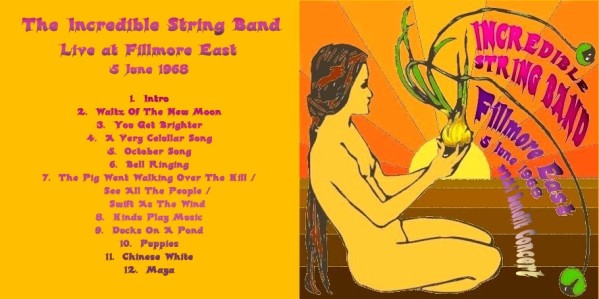 (this post is part of a series analyzing every performance at the Fillmore East. Above is a scan of a bootleg recording from the WBAI broadcast, from the Incredible String Band concert history site)
June 5, 1968 WBAI-fm Benefit with the Incredible String Band

Bill Graham was alert to the promotional value of being a good citizen of his community, so he lent out the Fillmore East on weeknights for appropriate causes. WBAI-fm (99.5) was part of the Pacifica Radio Network (which includes KPFA-fm in Berkeley), and as a result it depended on listener support rather than advertisements. The station held a fundraising benefit at the Fillmore East on Wednesday, June 5. There were probably other performers, probably including some music, but the Incredible String Band were the headliners. More importantly for historians, WBAI taped the performance and broadcast it on March 23, 1969.

The Incredible String Band were a talented folk duo from Scotland. Mike Heron and Robin Williamson wrote nice songs and played numerous instruments, including various middle eastern instruments not typical at the time. In March 1968 Elektra had released their classic 3rd album The Hangman's Beautiful Daughter, and this was their first trip to America. What had initially been an acoustic folk group (originally a trio with the now-departed Clive Palmer) had become a sophisticated melange of English folk music and instruments from around the world. While the ISB was not to everyone's taste, they were surely one of a kind.

The Incredible String Band was managed by a legendary producer named Joe Boyd. Boyd was from Princeton, NJ but by this time lived in London. Boyd was an incredibly important behind the scenes figure in 1960s music on both sides of the Atlantic, but his story is too detailed to explain here. Suffice to say that Boyd's eloquent and hilarious biography White Bicycles (Serpent's Tail, 2006) is a must read for anyone interested in 60s music. Boyd was well aware that the Incredible String Band were unique, and made sure that they were presented in settings appropriate for their unique sound, as they were not going to succeed by boogieing away in some Municipal Auditorium, second on the bill to Vanilla Fudge.

At this time the Incredible String Band featured Mike Heron and Robin Williamson as co-leaders, co-lead singers and writers of all the songs (though not partners). Their girlfriends, Rose Simpson (bass) and Licorice McKechnie (various instruments and vocals) respectively, supported the band in concert. This show was near the end of the Incredible String Band's first American tour, which had begun a month earlier in the gym at SUNY Stony Brook, opening for The Grateful Dead (on May 4, 1968).

The Incredible String Band were a unique group who were also uniquely promoted in America. They regularly played The Fillmore East on their own nights. I have seen uncertain indications that they played Fillmore East on Sunday May 12, 1968. I cannot confirm this, but it would fit in with their history.

Next: June 7-8, 1968: Electric Flag/Quicksilver Messenger Service/Steppenwolf